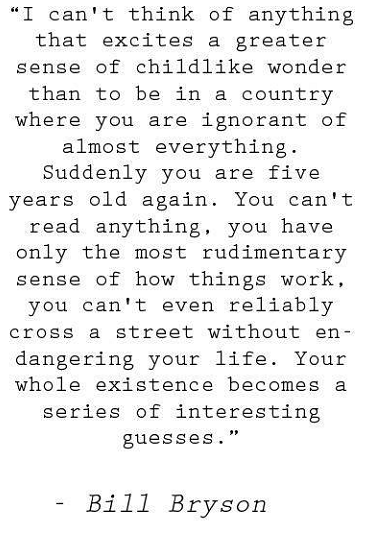 I have my father to thank for my love affair with travel. Although my dad and I didn't see eye-to-eye on many issues, I could always detect an approving twinkle in his eye when I said, "Dad, I'm planning a trip…".
I got my first passport at three years old, and have never let a passport of mine expire. I hold both a Canadian and a British passport –you know, just in case. The thought of being without a passport even temporarily makes me anxious – what if it caused me to miss out on some amazing travel opportunity? The horror.
There is a difference between a tourist and a traveler. A tourist tends to stay in their comfort zone, sticking to major cities, seeking out people and areas that cater to creature comforts and speak a tourist's native language. There is nothing wrong with being a tourist, sometimes ease is what is needed to decompress and recharge.
But then there are the travelers. Travelers prefer to immerse themselves in the different, the new, and sometimes the downright primitive and scary. Travelers are rarely expecting ease and a "relaxing" break from their daily routine. What is the lure of traveling? Hmmmm…how to sum up in mere words….
Being immersed in the unknown brings humility, connection (to others, but also deep connection to Self), knowledge, personal growth, wisdom, joy, awe, inspiration, creativity, meaningfulness, purpose, curiosity, empathy, awareness (personal, global), spirituality, and much, much, more.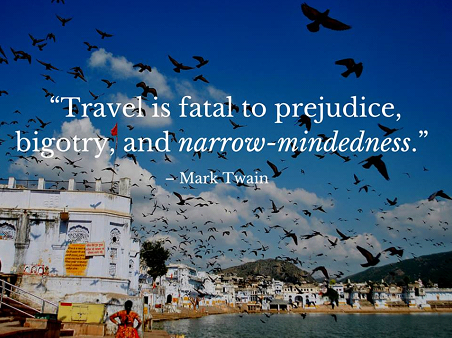 In my day-to-day life, I am a doer – I create goals, write lists, and get shit done. I am flexible, and can change course easily. However, like many, I am guilty of practicing "tunnel vision" at home. When away from home, I embrace a different lens. I am not task-oriented. I have no expectations of what the day holds. I am not figuratively or literally crossing off things on the "to-do" list. I make more eye-contact. I engage in more conversations with strangers.
Waking up in a foreign country off the beaten (tourist) path means I might not even know what I am having for breakfast, and whether I can successfully figure out how to procure it. Some people think that is a nightmare. Truthfully, when I am jetlagged, hungry, and my patience is low I too have felt like that ("what the heck was I thinking coming here?!" has rattled around my brain more than once).
But then.. I am reminded of the gifts that come with "going with the flow" and resisting the urge to control and plan. Like the time I spent a night sick on a felucca sailing down the Nile in Egypt. A lovely Nubian man spoon-fed my soup and sang to me. It was tender and beautiful. I will never see that man again, and yet I hold him in my heart forevermore. And the time my partner and I were lost on the streets of Agra, India and a kind tuk-tuk driver stopped and offered us guidance. At the time, we just assumed he was keen to secure us as customers. Nope. He spent two days showing us the sights, exposing us to much more than just the tourist stuff, teaching us about his culture and Hinduism, and he would not take money from us. He was so pure of heart being in his presence was a spiritual experience (no exaggeration). Or the time I traveled from London to Paris on the train and spent the entire trip chatting with an English woman about the complexities of intimate relationships. I think about that fascinating conversation all the time. And the Muslim driver living in a Hindu city who took us home to meet his family. The list goes on.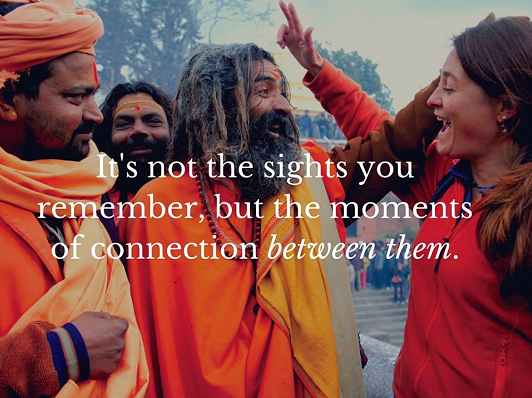 The gifts of genuine connection come every time I travel. Last Christmas my partner and I met a fun couple from Arkansas during our airport layover in Houston and spent a laughter-filled car ride in a cramped convertible from Louis Armstrong airport to downtown New Orleans. Who says the journey too cannot hold gifts of connection?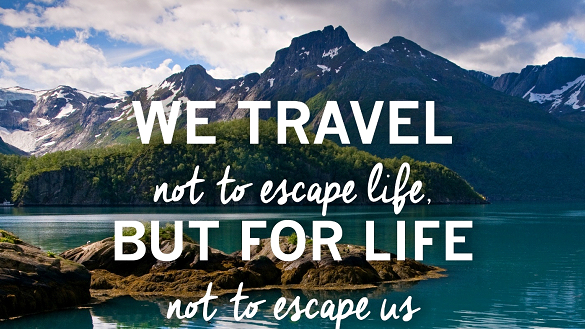 We in North America need to value the gifts of travel more.
Did you know that in Australia, employees are entitled to four weeks annual leave after the first year with the company? Most public employees receive five weeks of annual leave. In addition, the standard working week in Australia is 38.5 hours.
Casual workers receive higher rates of hourly pay to compensate for the lack of annual leave, whereas those who work part-time, such as students, are given a pro-rated amount of annual leave based on the hours worked.
A typical allowance for sick leave is 10 days, and one or two days for compassionate leave. Public servants, again, typically receive more generous benefits. Leave days tend to carry forward, however sick leave is rarely paid out in the case of a worker leaving a company.
Long Service Leave (LSL) is often available to encourage workers to stay long-term with a company, as they are paid out after 10 years. LSL is accrued for all workers, from full-time to causal. It accrues at a rate of one week for every 60 weeks of employment with a single employer. This means, in most cases, that you could expect to receive around 13 weeks of leave after 15 years of employment (http://www.workingin-australia.com/jobs/job-tools/annual-leave#.WW-gzYWcHIU).
It is no wonder that Australians are masters in the art of traveling! No matter where you venture in the world, you can be sure you will run into Aussies. And they are a happy lot, which I directly correlate with their adventurous spirit, willingness to bust out of their comfort zones, and employer-supported annual leave.
But travel is expensive, many bemoan. Okay….but so are lots of things. Five-dollar lattes five days a week add up too. We humans are skillful at justifying and manifesting what we prioritize and value. When it comes to having coffee outside the home, I only do it when I am gifted with a visit with someone. You will never see me in the drive-through line at Tim Horton's or pulling into Starbucks. I pack my own work lunches. In the four years of my undergrad, I spent less than $5 in the university cafeteria. Why? Priorities. MY travel priorities! I have worked multiple jobs, and sold my belongings to pay for travel. And I never regret doing so.
Memories of adventure and connection offers my soul much more than material possessions and daily vices.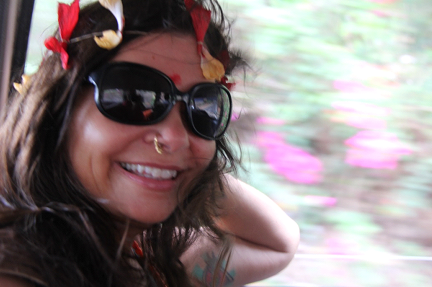 This picture was taken driving around Agra with our friend Torry. I love this picture (silly as it is) because it reminds me of feeling pure unadulterated joy. I quite literally wept tears of joy that day. Isn't that worth skipping take-out coffee/food for?
"To travel is to take a journey into yourself"
                                                                ~Danny Kaye
Traveling is a gift that keeps giving.