The Bandaged Place
Don't turn away.  Keep your gaze on the bandaged place.  That's where the light enters you. 
~Rumi
The poet Rumi suggested that there is a correlation between our wounds and our awakening. Elizabeth Kubler Ross stated 
"The most beautiful people we have known are those who have known defeat, known suffering, known struggle, known loss, and have found their way out of the depths.  These persons have an appreciation, a sensitivity, and an understanding of life that fills them with compassion, gentleness, and a deep loving concern.  Beautiful people do not just happen".
~Elizabeth Kubler Ross
This ideology continually gets strengthened for me in both my personal and professional life.  I find that the people who have overcome adversity are the ones that come closest to achieving self-actualization.  What is self-actualization you ask?  A self-actualized person is often one who has attaining a sense of spiritual enlightenment and wisdom.  Self-actualization encompasses a drive for knowledge and growth, creativity, altruism, acceptance, grace, and "integrates the 'real self' and the 'ideal self' thereby cultivating the emergence of the 'fully functioning person'" (Carl Rogers, the founder of Humanistic psychotherapy).
And yet, when people are experiencing pain and distress, there is often an overwhelming sense of shame present.  People are more apt to hide their bandaged place, causing it to fester, and thus prolong or impede needed healing.  When we chose to look directly at our bandaged place and validate our pain, it stirs self-compassion towards our wounds and raw vulnerability.  Shining the light into this pain does not create pain to worsen – it ultimately brings us, the sufferer, new perspective and clarity.  Going to the root of pain can be daunting and downright scary, especially solo.  Psychotherapy helps!  A counsellor can guide you to the places you need to go to assist in healing your bandaged places.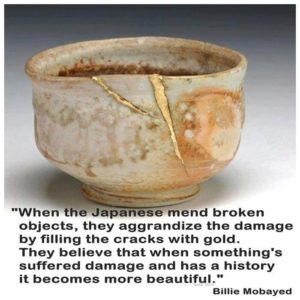 If you are unsure how to navigate your healing journey, reach out to me, or another mental health practitioner.  You are deserving of not just surviving your pain but using it as the mechanism that can enable you to truly thrive.
~Christine